The 8th Archetype and the 2nd Injustice Archetype has just been added to Hypnagonia: Exploited.
This card pool will provide a completely different game style than the usual self-harm and immersion mechanics of the Abusive Relationship so I'm excited to see what combinations you come up with.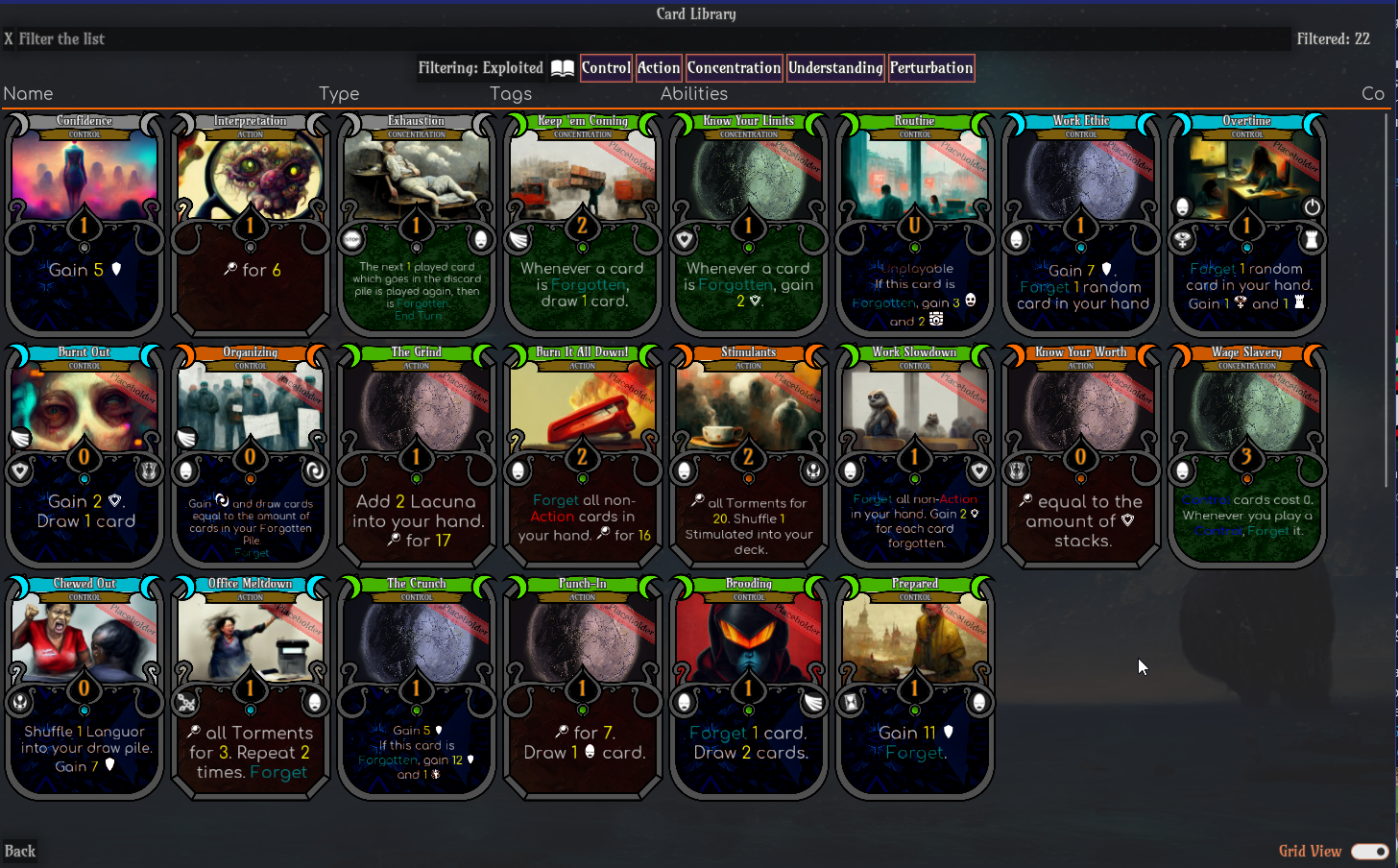 (I'm still working on filling in the rest of the art, but that should come out soon enough.)
As you can see, the mechanics are orbiting around 'slumber', which utilizes 'forget' to remove cards from the current ordeal in some way. Most of a time slumber cards remove themselves as a balance mechanic, but the Exploited archetype takes into the next level by forgetting other cards, even en-masse.
On top of that it has a lot of synergies around forgetting cards, such as procs for each, or boosting effects depending on how big your forgotten pile is. Other synergies include adding Perturbations into your deck for powerful effects, which you can then later target with forget.
For people who've played Slay the Spire, a lot of cards are inspired or copied from the Ironclad "exhaust" mechanic, but I have significantly extended this with my own ideas.
The most tricky aspect was figuring out a basic card for your starting deck, which would fit this mechanic, while also not exceeding the power level of a basic card. I came up with Exhaustion.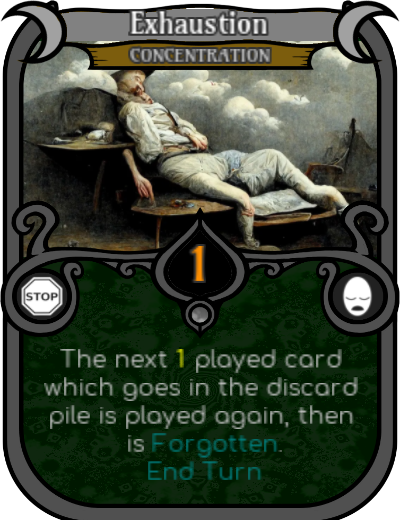 This allows a double-play of any card, at the cost of forgetting it and having to end your current turn, therefore making the choice of which card to play a bit random. It can be paired extremely well with 2-3 cost cards and the Cherish tag which will retain the cards you need turn-to-turn. But still a card you'd want to remove if your build is not optimizing its strengths.
Along with that, there's a few other significant changes in this release. Plenty of new art for Torments and their journal entries for one. But also I've did some tweaking on the performance of the game, which should improve significantly performance when using very large decks.
With this new Archetype, the possible card pool combinations are now 16 so it should give plenty of variability on each playthrough. My next step is to work on more encounter content for a bit, which means more torments and non-ordeal encounters, to keep each playthrough fresh.
Files
hypnagonia-html5.zip
Play in browser
Version v0.61.0
Jul 24, 2022
Hypnagonia_Windows_Lite.exe
134 MB
Version v0.61.0
Jul 24, 2022
Hypnagonia_Linux_Lite.x86_64
135 MB
Version v0.61.0
Jul 24, 2022
Hypnagonia_Windows.exe
328 MB
Version v0.61.0
Jul 24, 2022
Hypnagonia_Linux.x86_64
330 MB
Version v0.61.0
Jul 24, 2022
hypnagonia-osx.zip
309 MB
Version v0.61.0
Jul 24, 2022